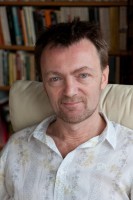 Psychotherapist and Counsellor in South East London
Psychotherapy and counselling can offer you a place to explore your thoughts and feelings, to take stock, and to replenish and rebuild yourself.
If you are suffering from anxiety, depression, loss of direction in life, relationship difficulties or feeling overwhelmed, you may benefit from a period of psychotherapy or counselling.
My name is Christopher Osborne and I have twenty five years experience of helping people through difficult periods in their lives. I am trained in body-oriented psychotherapy, short-term counselling and complementary therapy, and have a busy practice in Crystal Palace in South East London, close to Dulwich and Croydon. I am committed to providing counselling and body psychotherapy in a welcoming, confidential and non-judgemental environment.
I work with individuals and couples on an open-ended basis or for an agreed time period, with the aim of enabling you to enhance your life and to live it more fully.
I am experienced in helping clients who have experienced difficulties with :
Stress

Relationships

Panic Attacks

Anxiety

Bereavement

Redundancy

Depression

Addiction

My practice as a counsellor and psychotherapist is based in Crystal Palace within easy reach of Brixton, Steatham Hill, Balham, Dulwich, Croydon and South-east London.and with convenient transport links to North-east London, Sutton and Epsom.

Psychotherapy and counselling can provide a safe space in which to make sense of the past, to learn about oneself and to find new ways to be in the future.